Course 3 Overview
Athletes often turn to performance-enhancing substances in order to get ahead. Unfortunately, performance-enhancing substance abuse is not limited to specific sports, age groups, or levels, and it is not limited to steroids and human growth hormone. Prescription medications, stimulants, inhalers, and other medications are often abused to gain a competitive advantage. This course provides an overview of performance-enhancing substances and methods, including the side effects and dangers of their use. Coaches master how to look for warning signs and examine some of the reasons why athletes resort to these methods. Through interactive, scenario-based learning, coaches are armed with tools to prepare them to successfully navigate this difficult issue with their athletes.
Course 3 Learning Objectives
Identify some of the most common performance-enhancing substances and methods used by athletes and why athletes might resort to their use
Recognize the warning signs of performance-enhancing drug use
Utilize the resources available to you in order to learn more about performance-enhancing substances
Instruct athletes on the importance of drug-free sport
Effectively and ethically handle situations involving performance-enhancing substances and methods with your individual athletes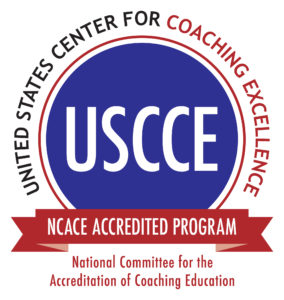 Accredited by the National Council for Accreditation
of Coaching Education (NCACE).